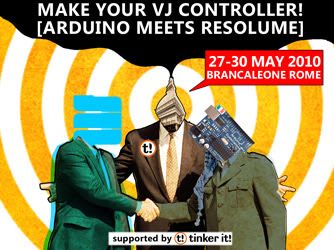 Hi folks!
Just wanted to present you a very interesting workshop
I'm
going to keep with
kobon
, a software artist friend of mine.
The setting is a wonderful festival which takes place every year in Rome (since 10 year, I think):
Live Performers Meeting
. (26-30 may)
Within that festival, I'm going to explain & build a nice vj controller inside a vhs tape.
The controller is talking OSC to drive whatever-you-want of resolume 3.
We are going to work on different sensors, hacking Hard Disks to become scracth table as well.
Read through the
LPM workshop explanation
and
my blog post
.
@Guys of Resolume: I know you are going to be there as well. I'm going to gift you a controller is you present a new version of resolue with OSC out soon (we worked it out to let the controller know if something has changed from mouse/keyboard, but we need it).