Rendering to DXV
The Resolume DXV Video Codec is a hardware (GPU) accelerated codec. The decompression of the video frames is done directly on the video card.
Today's video cards have enormous processing power available. The DXV codec means you can work on much higher resolutions and frame-rates, with much lower CPU and RAM usage.
Rendering
Rendering movies with the DXV Codec is extremely easy because there is very little to configure. No key-frames, nothing. It is pre-configured to be as fast as possible.
Normal Quality vs High Quality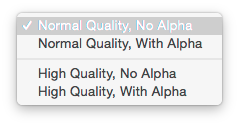 We advise to do all encoding at Normal Quality. Only if you notice a lot of banding on gradients, should you use the High Quality setting.
Expect file size to double when encoding to DXV3 HQ! With great power comes great responsibility, so don't use High Quality as your default render setting. You'll run out of disk space real quick. Only use it on files that have visible artefacts when you render them to Normal Quality.
There is no need to re-encode your entire DXV2 library. Especially do not re-encode your DXV2 files to DXV3 High Quality. Because you are rendering from a DXV2 source, any image artefacts are already rendered into the file. Your image quality will not be improved at all, the only thing you'll get is bigger files that look exactly the same. And that's not what you want.
No Alpha vs With Alpha
The DXV codec can also store the alpha channel. Just choose any of the 'With Alpha' options to render with included alpha channels.
Keep in mind that your original file needs to have an alpha channel for the 'With Alpha' options. Choosing one of these options will not magically create a transparent background if the source file does not contain it.
When your source does not have alpha channels, it's best to use the 'No Alpha' options to keep file size down.
Performance
Playback of video files with the DXV codec is only hardware accelerated when played in Resolume. When a DXV video is played with any other software, it is not rendered by the videocard so there is no performance gain in other software except Resolume.
Exporting .mov files with DXV encoding
Resolume Alley
The easiest way to create DXV encoded files is to use Alley. This is by far the easiest and free-est option. It's so simple the files almost encode themselves, but you can read more about the process in Alley's own manual page.
Adobe After Effects, Premiere and Media Encoder
Resolume comes with plugins to export directly to DXV3 from the Adobe packages. 
These plugins get installed automatically when you install Resolume and you have either After Effects, Media Encoder or Premiere installed on the same computer.
If you like, you can download the Alley installer to install the plugins separately as well. This way, you can export to DXV on a computer that does not have Resolume, or when you have just installed any of the Adobe applications.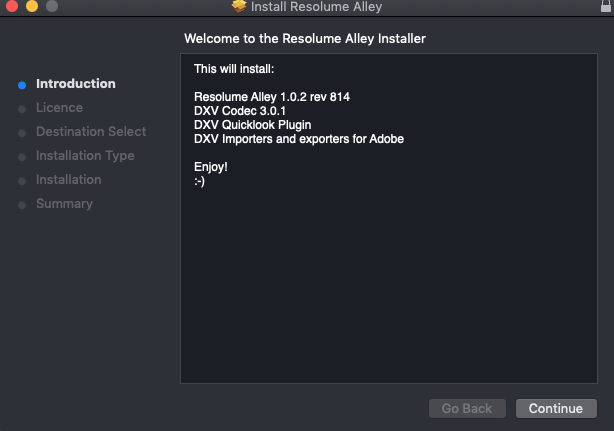 When you do not have any of the Adobe apps, the plugins are not installed either, so your system stays clean.
Once installed, this is how it works in each application:
Adobe After Effects
Choose Composition > Add to Render Queue

Click the Output Module settings (by default this is set to 'Lossless')

Choose the following options:

Format > DXV 3

In the Format Options, choose whether you want Normal or High Quality, and with or without alpha. The channels and color depth will adjust themselves automatically.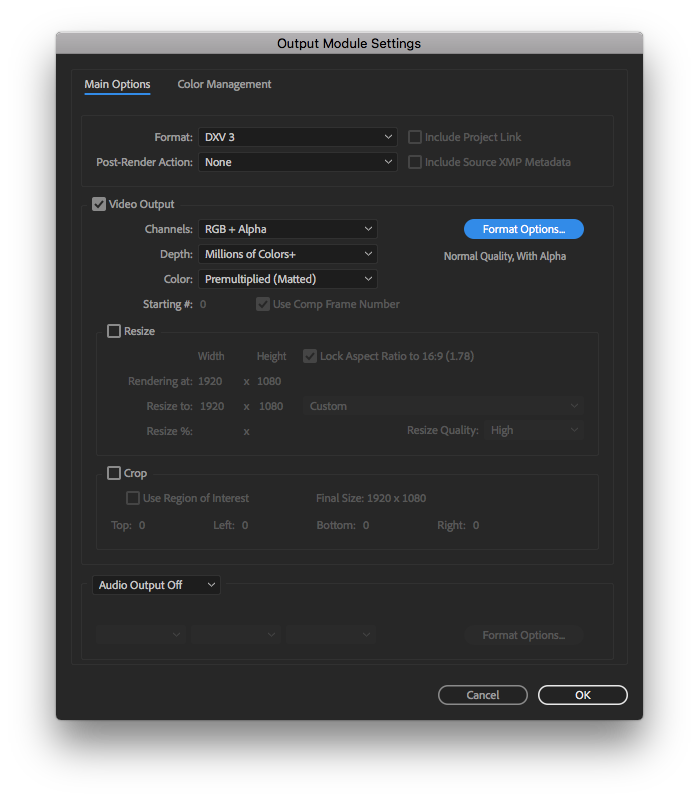 Adobe Premiere Pro/Adobe Media Encoder
From Premiere, choose File > Export > Media

In Media Encoder, click on the preset name
(From here on, both apps use the same interface).
Choose the following settings:

Format > DXV3

In the Video tab, select the resolution, pixel aspect ratio and frame rate you would like to use.

Under Compression, choose whether you want Normal or High Quality, and with or without alpha.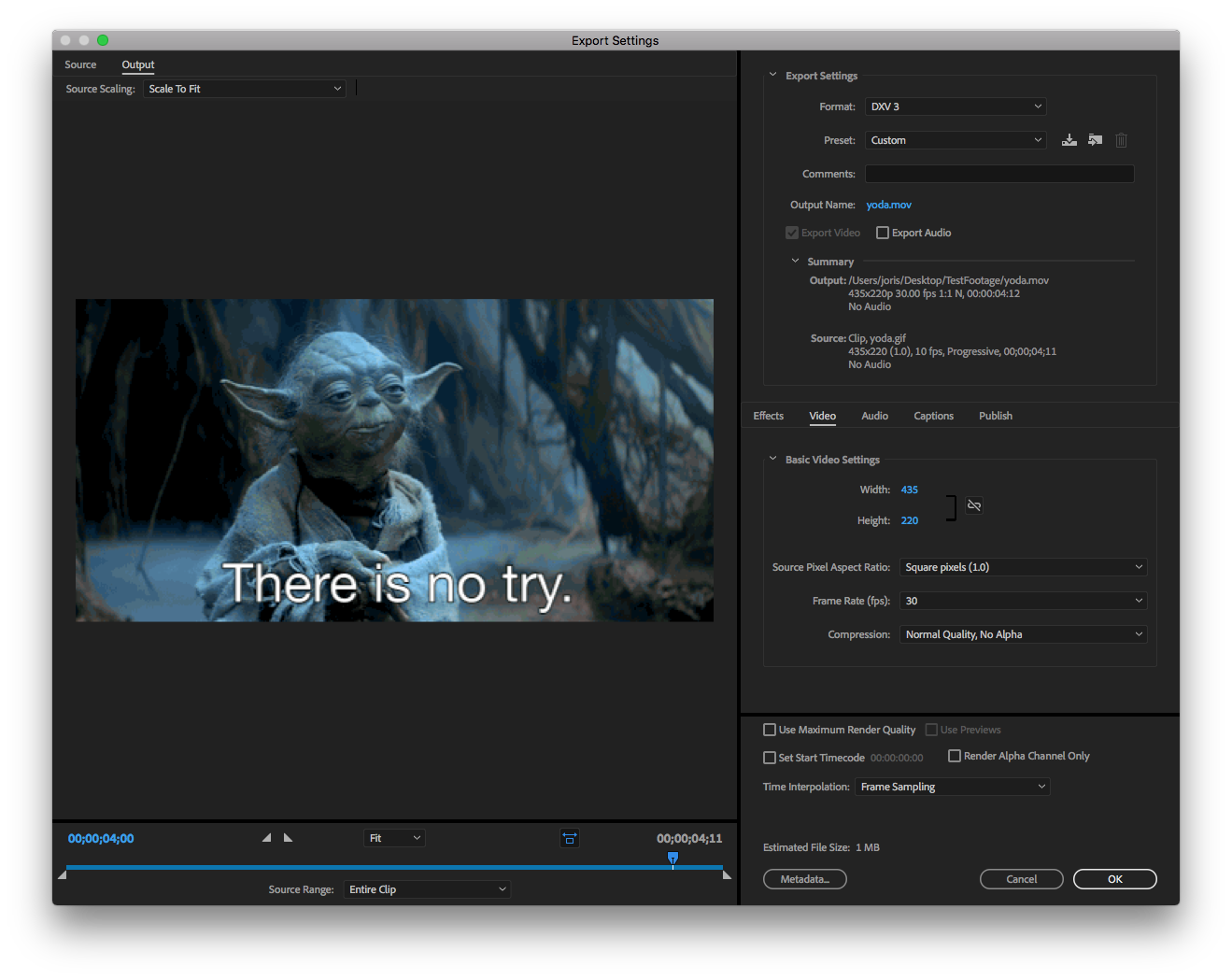 Quicktime Player 7 Pro
Choose File > Export

Under Export, choose 'Movie to Quicktime Movie'

Click Options

Click 'Settings' in the 'Video' tab

Choose the following settings:

Choose the desired compression setting from the Compression dropdown.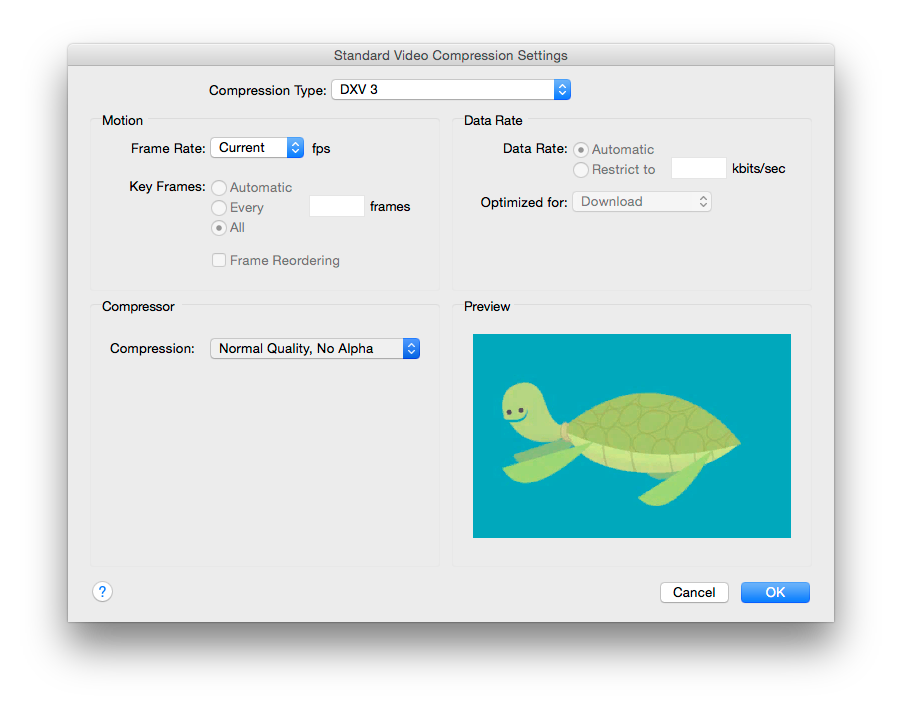 Related Articles