Linear OSC Controller for Resolume Arena/Avenue 4/5/6 for use with mainly linear (timeline like) shows.
Main features:
Direct your shows with just by pushing Enter ... Or Space if you are used to that
SMPTE learn and scene (column) launch / trigger
MTC learn and scene (column) launch / trigger
Clip play log
Remote control your Resolume Media Servers form anywhere on same Lan or even thru the internet.
Quickly have your cues set up
Failover backup connections for clients.
Create timeline using Auto launch
Auto launch Scene at time of day, with email notification
Auto launch next Scene in set time or beats
Auto launch next Scene on Clip end in given layer.
Auto launch thru Decks
Auto launch aid, to measures time(beats) between launches, record-apply automation editing.
Automation range for easy and fast batch automations.
Jump to scene/column/bookmark
Colorize your important cues
Pure Relay Mode to run Resolume instances in sync ( Master / Slave -s) from Resolume UI with customizable filters
Relaunch feature
Clip / composition collector integrated, to make full backup of your composition, looks for your advanced screen setup, and can collect the effect pluigns (fully functional without registration)
connection monitoring to clients
controllable via third party OSC app - TouchOsc template included
controllable via Midi
auto set transition time
set Transition Blends for cues
auto set bpm
remote switch deck
remote tap tempo
remote play, pause, resync
playback speed and BPM pitch bend
control multiple remote clients
works with presentation clicker (PageUp/PageDown), assign buttons, works in background.
resizable UI
Download from:
http://controller.palffyzoltan.hu
Demo will work for 8 minutes on each startup.
The program runs fully functional in demo mode.
Yes, even the Clip Collector.
You can use the automation feature to create interactive timeline behavior.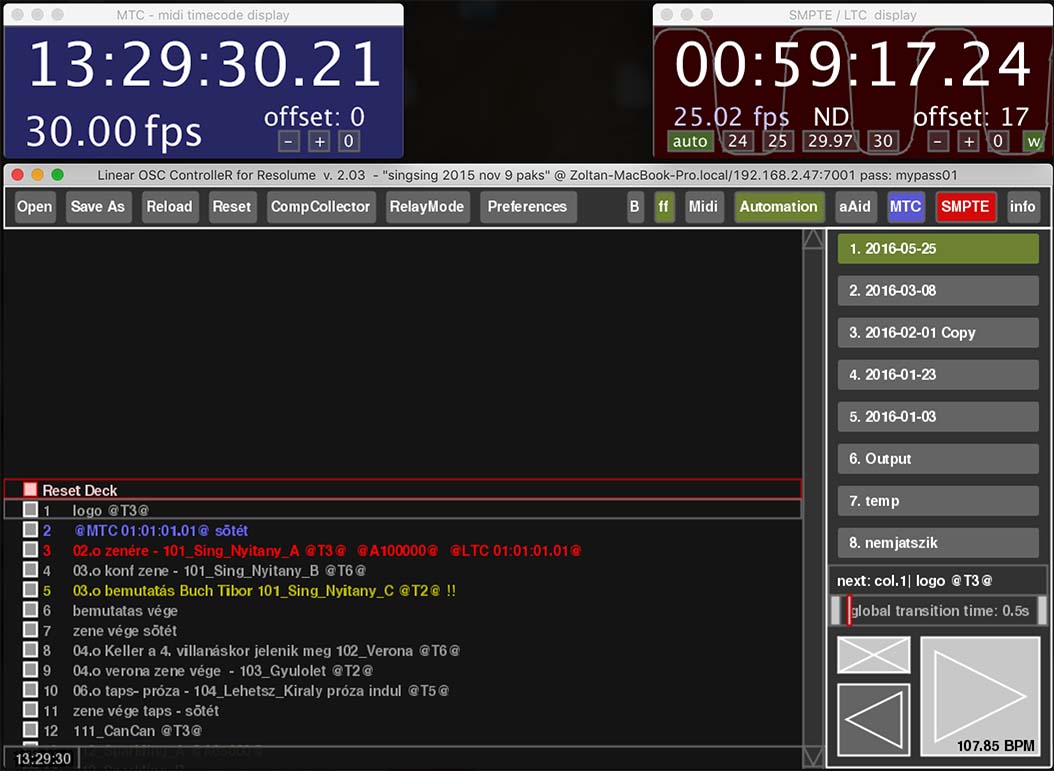 TouchOsc template: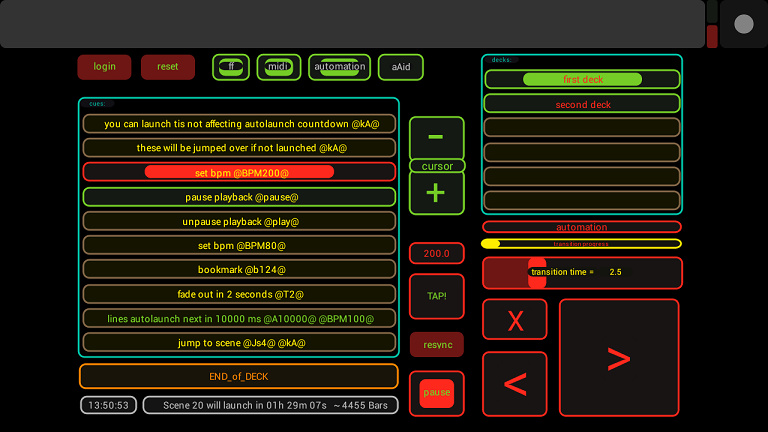 for changelog see website.