Recording
The record function records the composition output to disk and immediately imports this movie into Resolume as a new clip when you stop recording. All this is done without interrupting the video output.
Setup
Before you start recording, you need to go to the General tab of the Preferences window and select the folder that you would like recorded files to be stored in and whether you would like to record video, audio or both.
By default the files are stored in Documents/Resolume Avenue/Recorded
Action!
To start recording press the 'Record' button on the toolbar. To stop recording press it again. 
That was pretty simple huh? The movie you just recorded is saved to disk and inserted in the first empty clip on the bottom layer so you can directly use it again in your mix.
Note that recording does not interrupt your mixing or the video output so go ahead and go crazy on the effects and layers while you are recording.
The codec and format of the recording can be adjusted in the preferences.
Recording Preferences
By default the recorded video files are Quicktime, with the DXV3 codec at normal quality. The audio files are in uncompressed WAV format.
In the preferences you will find a tab for the recording settings. Here you can change the codec and format as well as adjust your output directory and audio settings.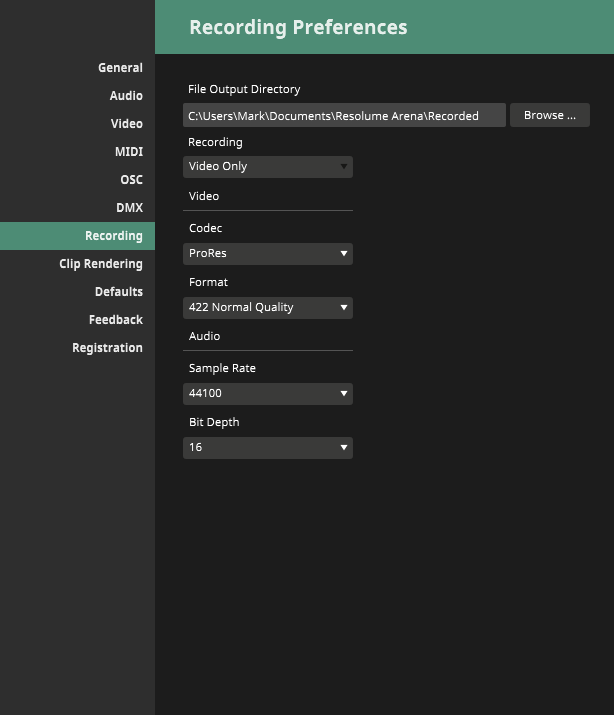 To 4K and beyond
The recorder is super fast but of course it still depends on your hardware and what you're doing, but generally you'll have to push it pretty hard to make it run out of memory or get it to stop otherwise. 
This bad boy will keep on trucking, even at 4K and beyond.


Related Articles