Last week Resolume went to the St. Joost School of Art & Design in the city of Den Bosch to share some of our Resolume-knowledge with the students there. VJ Liza Renee invited us to collaborate with her on a media art-focused Resolume workshop. We are always interested in using Resolume for more than VJ'ing so we got hyped and joined in on the workshop.

We started out with teaching the basics: composition, clips, layers, sources, effects and more effects and more effects and then some more effects. After that, we continued exploring the basics of projection mapping as most of the students were interested in this subject.

After the students got to grips with the basic operation of the software they each went their own way in making an installation. The focus here was on experimentation instead of producing, which led to a chill vibe in which the students could freely make while having support from us and Liza.
We had an amazing day with the students and saw some interesting results.
Each artist took their own approach to making their work, some used Arena to mix their existing video work, others jumped on projection mapping and there was even some experimentation with Wire.
We are looking forward to doing more workshops in the future.
If you are interested in a Resolume workshop at your educational institution feel free to contact us at
mail@resolume.com
Comment »
STVinMotion is the globe-trotting company of Steve Kislov and Nadya Abra. They produce footage packs and tutorials while traveling the world. We caught up with Steve to talk about his work, visuals, tutorials and travels.

Steve hosted a workshop on our Youtube channel. The footage used in the workshop can be found here and the masks used can be found here.


Batman has a great origin story, what's yours?
I'm originally from Israel. In 2000, after travelling and losing myself at the best psytrance festivals around the world, I returned to Israel to find out that a highschool friend (
VJ Masterdamus
) was VJing and creating better visual experiences than what I saw at some of the top festivals abroad. I started helping him out, just out of sheer enthusiasm.
When he suddenly relocated to Australia, I had to choose if I wanted to let VJing go or become a VJ. Easy choice! I bought Masterdamus's computer and he taught me how to create VJ content through video calls. Together, we performed at some of the best psytrance festivals abroad - the circle was completed, VJ STV was born.
The next step in my journey was STVinMotion which I founded together with my partner Nadya Abra. When we decided to leave Israel in favor of a nomadic lifestyle we added the "inMotion" to the name, symbolizing the motion of visuals and the motion of travelling from place to place.
I have retired from actively performing - in favor of focusing my attention on content creation and teaching. You could say that these days we perform vicariously through VJs who use our content.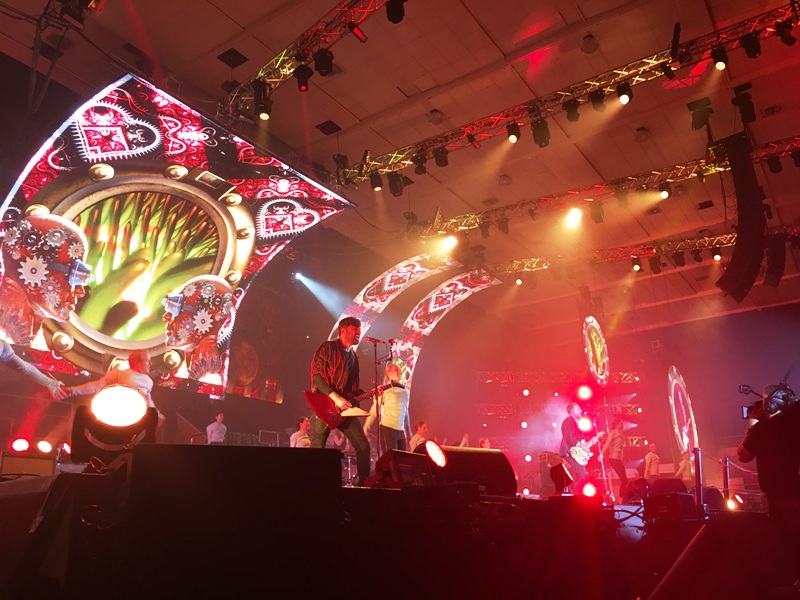 Vunk Concert, Romania. Live Visual by Bobo Visuals
Can you tell something about your creation process? How does a loop pack come to be?
I get inspired by seeing artworks by others. Browsing Instagram or Pinterest and seeing beautiful art can really light my brain on fire. I'm an avid collector. I arrange what I like into themed boards (say, Jungle or Aztec).
When it's time to create our next VJ pack we have themes and references already lined up. We search for an overlap between what we want to create and what VJs need. The key is making content that has the strongest impact on the audience.
We take the inspirational material and we start brainstorming about what we can make.
We look at the results as if this was a puzzle - looking for connections. The visuals have to connect conceptually and visually. The clips should tell a story and be pleasing to compose. Next, we create a couple of loops, take them into Resolume and see how they mix. We move elements around to see how they compose and react to effects. We try to have a good blend of Background Clips and Element Clips that can be mixed by the users.
From here on it's an iterative process. We create more loops and try them in Resolume. This process is repeated until the VJ pack is complete.
From a technical perspective: We use mostly Element 3D inside After Effects. We sometimes use Illustrator for design, Cinema 4D for hard surface modeling and Daz3D for characters - all are imported into Element 3D (as paths, OBJs & OBJ Sequences) and are composed there for the final render.
Steampunk Show by ULA Projects, Russia
You guys are living nomadically, how does this influence your content?
We travel slow, spending a couple of months in each location so we can soak the place and ambiance.We expose ourselves to the local artwork and customs. It changes our point of view and evokes inspiration. Travelling is an experience that takes us out of our comfort zone, it forces us to adapt ourselves to the environment and be flexible. The challenges we face help us grow and continue changing. When we reach a new place we meet new people and culture, cuisine and music.
For example, the
OrnaMental VJ
pack was inspired by Indian Mandalas that we saw locals painting with colorful powder in front of their doors. The
Cyborgasm VJ
pack idea came while practicing Vipassana Meditation in Thailand and realizing that our reactions to the world are kinda automatic - we might already be cyborgs!
We see eastern theme's, steampunk, architecture, symbolism and tribalism in your content. With this you set yourself apart in a VJ-world where abstract visuals are dominant. How did this come to be?
Having themes in our packs is a deliberate choice and its purpose is to create a stronger experience. When a VJ mixes visuals, one after the other, the audience searches for a connection between them, a story and a meaning unfolds. When all the visuals are abstract, there's no story or connection between the visuals and after some time the viewer might become indifferent to the show.
We want VJs to become an integral part of any event by introducing themes and providing interesting content thus becoming valuable artists rather than those who fill the void on the screens."
Steve's Expanse video is showing off some travel-inspired content
You have a great YouTube channel with a wealth of knowledge. Why did you start making tutorials?
I started making VJing tutorials because users of our content were not making the most out of it - not layering and compositing it the way we were envisioning it. I realized that not everyone shares my vision and has the same knowledge.
When I released the first
OrnaMental VJing tutorial
, it became very popular - the enthusiastic feedback from viewers made me realize that people are craving for this kind of knowledge and that it makes a positive impact on their performances and careers. I enjoy sharing what I've learned throughout the years and helping other VJs to grow and acquire new skills. Of course, seeing the visulas we created fulfill their purpose is a huge part of it, too.
I created a Facebook group that is dedicated solely to
Resolume Tutorials
. Everybody is welcome to join it, learn from the tutorials there and contribute by sharing tutorials that you made yourself.
Awesome Resolume tutorial by STVinMotion
Thank you Steve for the interview. Make sure to check out the STVinMotion website and YouTube channel. They also regularly show their workproces on Instagram and Facebook
Comment »
We're again growing rapidly here at Resolume HQ because of the release of version 7 and a very exciting new product coming up. We're looking to expand our team and hire a new
Product Manager,
UI/UX Designer
and a
Senior C++ Developer
. Have a look at our open positions below and apply if you qualify or forward this to anyone who you might think is a good match for our team.
Continue reading...
Over the past decade, the Comix crew has been making such great content, it is almost comical. A multimedia company specializing in live events, interactive design, motion graphics & film, they have worked with almost everyone in the dance music industry.
From Avicii to Alesso to Kygo to DJ Snake to Axwell Ingrosso to Swedish House Mafia, the list is a bit endless.
Continue reading...
What happens when a bunch of artists, architects, programmers and engineers come together? A burst of creation with a dollop of technology. Minimal yet complex. Simple yet amazing. This is what Litewerkz is.

Photo by Calvin Chan
Formed by students who met at the Singapore University of Technology and Design, Litewerkz is a newish design collective- with lots of vision. Gradually growing from indoor static installations to outdoor dynamic installations, they have worked at developing themselves by welcoming new members and perspectives, every year.
Continue reading...
Imagine you are driving (top down, of course) along a pristine coastline.
The wind in your hair, the world at your feet. The sun is setting, the ocean is that perfect blue. The salty air is filling your lungs up with freshness.
You smile coz life is perfect and as you muse out into the water, you see this:
Didn't your life just get so much better?
Continue reading...
On a fine sunny afternoon, in 2014, Joris de Jong was holed up in front of his computer, of course. Apart from a full- time job serving coffee at Resolume HQ, he moonlights as a video operator. And that day he was mighty frustrated.
Joris had gotten sick of customizing and then rendering the same content, over and over again for every show he played- with minute changes in timing and position. "There has to be an easier way!" he thought to himself, sipping on below average coffee that he had not brewed.
And so, Chaser was born.
Continue reading...